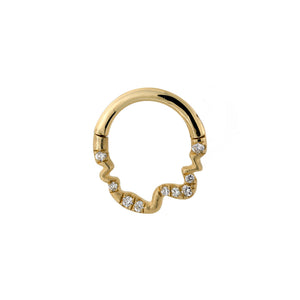 All hoop mechanisms are tested upon ship out. Due to strict health regulations for body jewelry, all sales are final; there will be no returns for hygienic reasons.
14K Gold Clicker w/ Diamonds
Gauge: 16G (1.2mm)
Diameter: 5/16" (8mm)
Explore a strange new world with the Either Way Forward Facing Clicker! Featuring an organic design, this unique piece of art will challenge and inspire you to take creative risks. 
Sold per piece
Jewelry should be properly cleaned from time to time with a polishing cloth to maintain the product.
Photo credit: Somatic Body Piercings