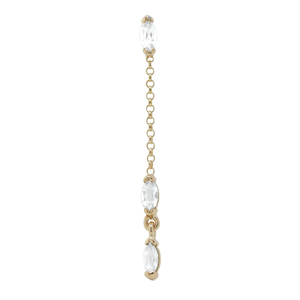 All pin ends are tested and pre-bent upon ship out. Due to strict health regulations for body jewelry, all sales are final; there will be no returns for hygienic reasons.
14K Gold Threadless End with Gem 
With Epic 01, behold a dramatic threadless end featuring the brilliance of a diamond-shaped marquises, that elegantly sways and dangles - transforming any piercing into a work of art.
Overall Size: 2x30mm
Sold per piece; labret back sold separately 
Compatible with Threadless Labrets
Jewelry should be properly cleaned from time to time with a polishing cloth to maintain the product.